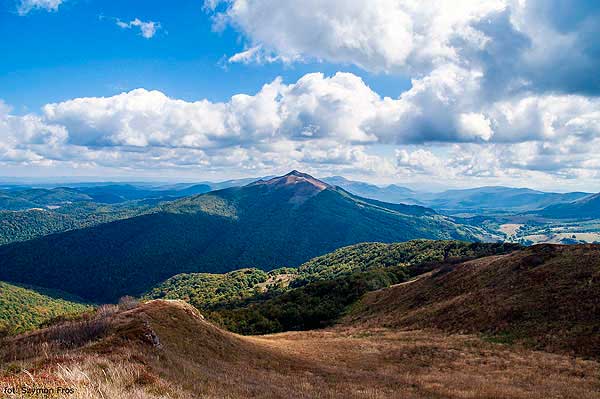 Bieszczady – for many people – the most beautiful mountains in Poland.
Long hogbacks laying from north-west to south-east are phenomenon for European scale.
Bieszczady is one of few places in Europe, which after WWII has naturally re-wilden. Before the war this part of Poland was one of highest populated and purest areas of the country. After the war, the region has been depopulated, burned down, forgotten and to some extent - forbidden. Thanks to this wild, clean nature has survived in the area.
Bieszczady offers opportunity of hours-long walking trips, during which no man will be met, ad animals: foxes, dears, lynxes, wolves or even bears may follow tourists, watching them from between trees or be present at least as traces of feet, paws or claws.
Bieszczady offers many attractions starting from commonly known as narrow-gauche railway, greek-catholic churches survived after the war, Solina Dam and artificial lake - going through horse riding along hogbacks, searching for trails of previous inhabitants of the area, and finishing at bird-watching in Nature-2000 preservation area covering most of Bieszczady.
Everyone will find something special in Bieszczady!